Free Resources for Logic Pro Producers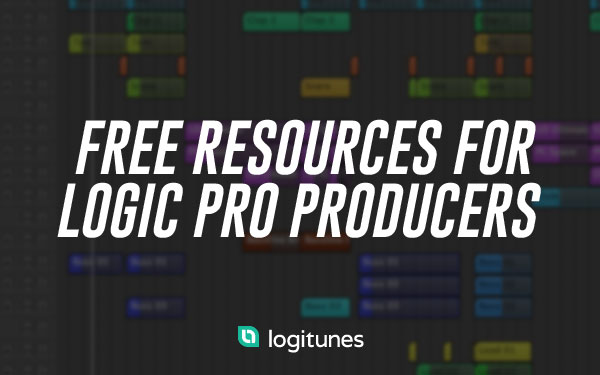 Everyone loves to have an edge these days in the production community. These tools will give you the look and feel you need to stay ahead of the curve! For all of the lovers of Logic Pro out there go grab these up quickly to get your arsenal equipped!
1. Free Logic Pro X GUI Themes
If you are looking to spice up the look and feel of Logic then try changing your SKIN. The "skin" is what makes up the look of your DAW. Changing your skin is a great way to ease eye fatigue or just give your DAW a new and fresh appeal.
When Logic Pro X 10.1 was released, the update seemed to break most of the GUI skin hacks that the modding community had in place. The new version of Logic has this all fixed up and ready to go, but I always recommend creating a backup if you are new to installing GUI Skins. Here is how to create a backup of Logic. First things first. The safest way to do this, is to control-click the Logic Pro X icon in your Applications folder, and choose "Compress Logic Pro X". Then carefully read these installation instructions.
Here are a few links to some really cool GUI's. Some are free and others require a donation.

Logic Pro X Themes
2. Free SSL Compressor Emulation Presets
The SSL Compressor is meant to usually be used as a buss or master mix compressor. It is often used during mixing to create a subtle compression over the stereo mix.
It is not a true mastering compressor but will help smooth out transients in the mix when used correctly.
Logic Pro SSL 4000G Mix Bus Compressor Emulation Presets
3. Free Impulse Response Presets for Space Designer
IR Presets are like the holy grail of Reverbs. Here are a couple resources to get your ambience taken to the next level. One is for the Bricasti M7 Reverb unit and the other is the world famous Lexicon 480L. Check out the web links here to get the full details and download info.
4. Free EXS24 Instruments
Who doesn't love free instruments? Well the fine folks over at Logic Cafe have a plethora of hard hitting synth and drum instruments to get that inspiration going! Follow the links and get those Hard drives ready to download some serious new toys! More info.
5. Free apps for Logic Pro
Logic Remote is an official app by Apple that lets you take control of Logic by using the full touch screen capabilities of an iPad. This is a really cool feature and lots of fun to take advantage of!
V-Control Free provides a multi-touch control surface for Pro Tools, Logic 9, Cubase/Nuendo, and many more DAWs. V-Control Free uses WiFi to control transport and mixing functions.
6. Free Logic Pro Template
Nothing saves time and gets your workflow moving like having a great template to start from. We've released free Logic Pro template "Sound Tropez" that you can use as a mighty starting point for your pop productions and learn a few pro tricks in the process!
We hope this article was helpful. The most important things you can have in the studio is great workflow and proper templates to maximize studio time. Save your presets and do anything you can to not do repetitive tasks. Remember to always save backups!